Author: Lynk – lynk.global
The industry itself also identifies top performers with one simple metric: ability to make money. While female professionals in finance do not always resonate with the culture of excellence on the buyside, a lack of gender balance in investment teams is also rarely a deal-breaker.
According to a study by data provider Preqin, only 17.9 per cent of private equity employees worldwide are women – the lowest figure of any asset class and has remained unchanged from 2017. Women are primarily employed in investor relations and finance teams in PE firms with only 9.9 per cent of senior roles are occupied by women.
Across different regions, women account for broadly equal proportions of private equity employees, ranging from 19 per cent in Europe to 17 per cent in regions beyond North America, Europe and Asia. Almost a quarter of British firms have a male-only investment team, according to a report released by the British Private Equity and Venture Capital Association (BVCA) in 2019.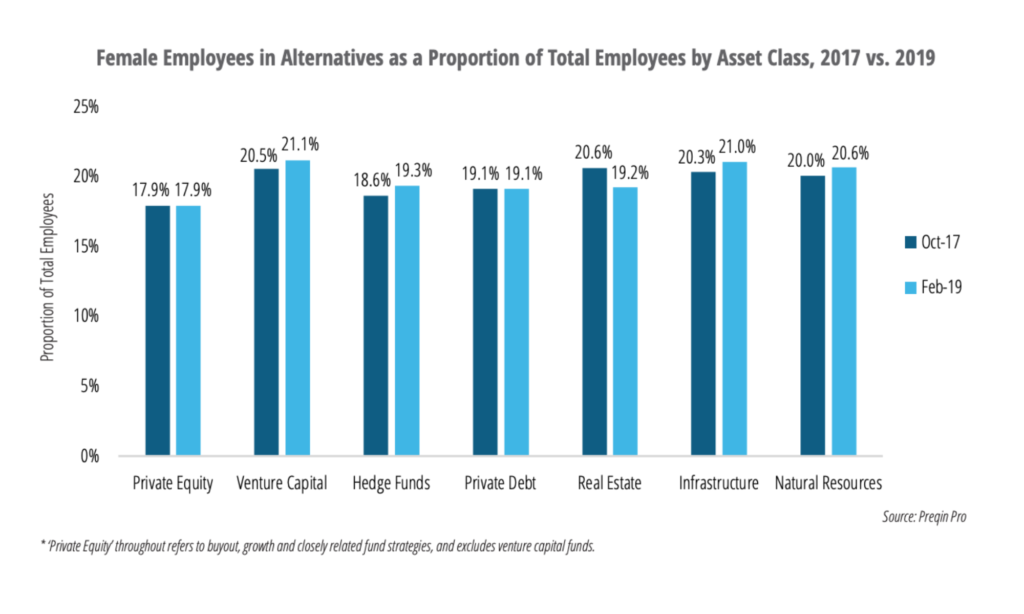 "Personality is not a gender issue. Both men and women can have different or similar personalities and characteristics. The [buyside] business is a high energy profession and could be overwhelming to some, this is why the ability to self-manage is key to succeed in the industry," said Virginie Maisonneuve, founder partner and CEO of MGA Consulting.
"A lot of women are ambitious and want to excel. Sometimes we wonder if [women] have to be assertive and male-like in the way they behave and communicate in order to excel. I do not think this is true as I do not exhibit this style and know other very successful women who similarly do not," said Kimberley Stafford, managing director and head of Asia Pacific at Pacific Investment Management Co..
Small Talent Pool
Modern day female leaders often do not shy away from challenges and might at times appear to be more resilient than their male counterparts. If it's not the competitiveness and the nature of the job itself that drive women away, what are the barriers preventing them from choosing a career on the buyside?
"It is evident that systemic bias exists within many financial services companies. Unfortunately as our research shows, it is widely accepted as the norm to have heavily male-dominated teams, from senior leadership to those on the front-line," said Kirti Lad, executive director at Meraki Executive Search and Consulting, "although the majority of businesses know they need to do more to address the issue, many are still finding it a challenge to transform the working culture to one of inclusion".
"We have been seeing a decline in terms of female MBA students opting to focus on finance. It seems that women are just choosing other types of career such as consulting and technology," said Stafford.
Stafford also said that one reason women opt out of careers in finance is because there is a misperception that they cannot enjoy a successful career on the buyside while living a fruitful personal life, and that also leaves firms with a small talent pool of qualified female candidates to select when hiring.
As well as career advancement, family life is also an aspect that female professionals often have to consider when marriage and having children are included in their plans. In markets such as China and Hong Kong, women representation in the senior levels usually appears to be higher than that of North America because domestic helpers are common and easily accessible in Asia.
Case in point, Asia is the only region in which more than one in 10 senior employees in a PE firm are women. Among the largest private equity hubs, women leaders are mostly found in PE firms based in China and Hong Kong. Still, the degrees of diversity on the buyside still vary in East Asia as women only make up 3.7 per cent of senior employees at South Korea-based firms, according to Preqin.
Boys' Club Culture of Wall Street
From former stockbroker Jordan Belfort's memoir in The Wolf of Wall Street to ex-hedge fund trader Turney Duff's wild tale of drugs and sex in The Buy Side: A Wall Street Trader's Tale of Spectacular Excess, the 'boys' club' atmosphere of Wall Street is often documented and depicted by modern media as an exclusive circle where women do not belong.
"Buyside in particular faces an uphill battle – the pervasive 'boys' club' mentality tarnishes its reputation as an attractive option for female talent, coupled with a lack of flexible working options and hours required," said Lad.
Not only do women find Wall Street an environment challenging to work in, wider issues such as racism also create extra barriers for Black investment professionals and minority groups in a career that already requires everyone to be at the top of their game all the time. Despite the diversity agenda has gained more traction over the past decade, it is often the unwritten rules that remain difficult to tackle.
Reaching a Level Playing Field
While the lack of diversity on the buyside is a long-standing fundamental problem that is not unheard of in the investment management industry, clients of some of the world's largest buyside firms are forcing them to change.
Limited partners are increasingly becoming more diversity-conscious and have been including women representation in investment teams as a requirement when selecting PE firms to work with. With capital being key for private equity firms, it should be a straightforward process to drive real and immediate changes if the entire LP space implements such requirements. But some argue LPs are not doing enough to force changes to happen.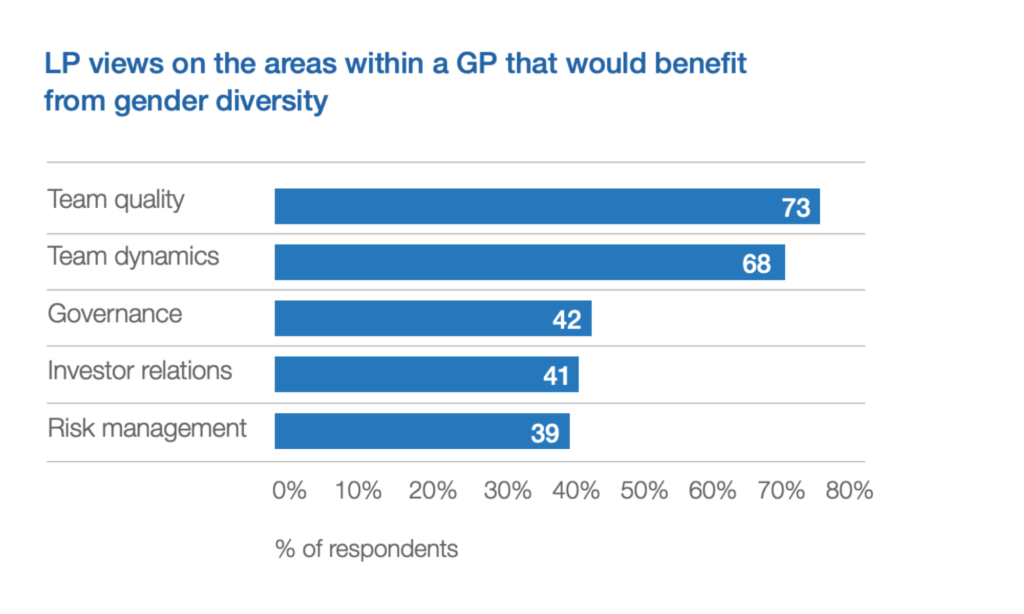 As suggested in a report by the World Economic Forum: 88 per cent of LPs do not think that women offer a magic formula to directly improve returns. The data can partly be attributed to subconscious biases against women in technical roles while sending a message that could undermine the practicality of developing female talent on the buyside. As a result, women could still be seen as "diversity hires" regardless of their academic and professional achievements.
"If financial firms are required to report on sustainability and ESG, and if regulators also ask for those reporting, companies across the globe will have to think more about sustainability and diversity. If we start measuring everything, the bigger picture will become clearer," said Maisonneuve.
Maisonneuve added that not only will institutional clients and asset owners be a force for change, but retail clients will also begin considering diversity and sustainability in their decision making process when choosing firms to work with and making investments.
Stafford also pointed out COVID-19 has shown the world that remote work arrangement could work for a certain job functions within the investment management industry, "what is the next phase going to look like? We are probably not going to go back to where and what we were, and this is great because we are able to see there are a lot of different ways to work and achieve outcomes and I think that's really good for women in particular".
This article was originally published on Lynk Insights.

Buyside Power Women is Lynk's latest interview series that features conversations with female leaders and male allies on the buyside to increase visibility of women in the industry. The series covers the career journeys of female leaders in different regions, and how advocacy for diversity could influence future capital allocation.
Stay tuned for upcoming Buyside Power Women editorial articles and live events here.