[vc_row][vc_column width="1/4″][vc_column_text]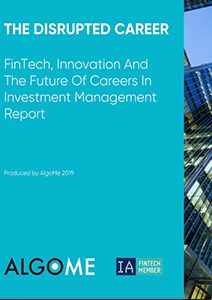 [/vc_column_text][dt_default_button link="url:https%3A%2F%2Fcommunity.algome.com%2Fthedisruptedcareer%2F|||" size="big" button_alignment="btn_center"]Download Report[/dt_default_button][/vc_column][vc_column width="3/4″][vc_column_text]
IA Fintech Member Insights: AlgoMe
Summary of findings
This report aims to address key questions that are important to everyone working in or looking to join the Investment Management Industry.
How significant will the impact of FinTech be on career paths?
How likely is my current role to be affected?
Where are the opportunities in this disruption?
How can I best position myself for future success?
AlgoMe asked a panel of Investment Industry professionals their views.