IA Fintech Member Insights: Singlerulebook
Visual tools can capture MiFID II subject matter expertise
A picture speaks a thousand words. The raw materials of regulatory professionals are thousands of words. So it's only logical to visualise regulation!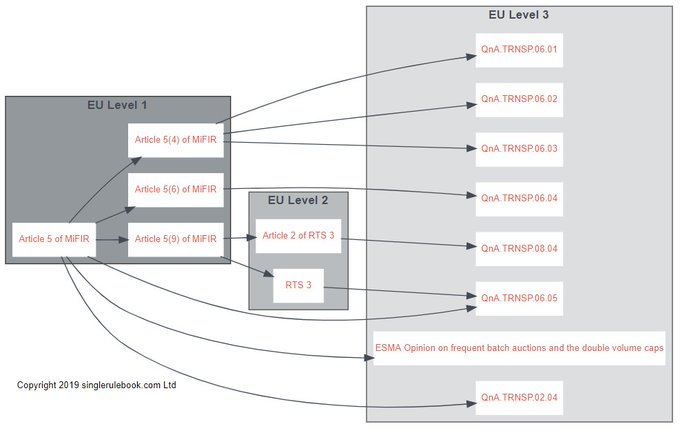 Visualisation and analytics tools can make regulation easier to digest and help with finding information more quickly. Reading is time consuming and can easily overwhelm us. Especially so for complex regulation, consisting of many layers of cross-connected and interlinked rules. Regulatory expertise is traditionally built upon hours and hours of reading and piecing together different sets of texts sourced from many different documents. It's hugely challenging to be a regulatory expert. I experienced these challenges myself as a financial regulator and head of compliance before setting up a technology company.
What if we could visualise regulatory subject matter expertise? Wouldn't it be much more efficient to see all these connections between regulation as actual links rather than as wordy descriptions in documents? It would certainly give a head start even if it would not replace the actual reading. It would save experts and juniors alike lots of time. No more need to track down the latest updates of each text, browse for relevant requirements and research rule relationships. You can immediately start with the interesting work: interpreting the requirements and applying them to facts and circumstances. That ground work is all instantly available and the visualisation makes you confident that you consider all relevant rule relationships.
We can make our visualisation tool even more productive when we map in-house rule interpretations on the maps of the official texts. And we can exponentially increase productivity when we enable people to share the interpretations that they pinned on these rule maps. Most regulation is open to interpretation and firms need to adopt a strategy to systematically track and consistently apply rule interpretations. Sharing rule interpretations on visualised rule maps allows the whole firm to digitally leverage consistent interpretations of up to date regulatory expertise. It enables anyone to immediately start using the expert regulatory knowledge that has accumulated within the firm, including juniors and new employees.
We've done the test and created interactive visualised rule maps of regulations. The illustration of this article is an example of an interactive rule map covering the base rules and guidance for the MiFID II dark caps. People love it. Because it's simple and it works. Visualised rule maps of regulation are efficient and enable deeper insights. They provide confidence that you are not missing something. When you can leverage the regulatory expertise of the whole firm on a visual tool you truly have subject matter expertise visualised and regulatory knowledge management covered.
Get in touch to request a free demo: [email protected]