Author: SESAMm– sesamm.com
The world of private equity has been fertile ground for the adoption of alternative data, including AI-driven insights from firms like SESAMm, an expert in Natural Language Processing (NLP).
Could SESAMm's technology provide Carlyle with the tools to identify a better class of investment opportunity?
When SESAMm's CEO Sylvain Forté met the man in charge of data at The Carlyle Group, at an industry conference, the opportunity arose to put SESAMm's data to the test.
"I remember the first day I met Sylvain and he said, I can tell you if your company is trending positively or negatively on the internet," recounts Matt Anderson, Chief Data Officer of Carlyle, at a recent PE Insights webinar, in which EQT and Apollo were also speaking. Sensing potential in the data, he decided to give it a go.
SESAMm's NLP platform generates quantitative and qualitative analytics on a wide array of entities – from public and private companies, to brands, products and individuals, by running cutting edge algorithms across billions of web-based articles.
Their data lake is not limited to news stories from the New York Times or Wall Street Journal, but spans a whole variety of global sources – social media, blog posts, professional forums, customer reviews and more, in over 100 languages.
Using this ability to interpret unstructured text from a huge slice of the internet, SESAMm's team created insights designed to help Matt's deal teams evaluate target companies.
The challenge was getting investment professionals to buy into the value of alternative data for private companies, so SESAMm condensed everything into easily-digestible reports. They included time-series and charts measuring companies on a variety of key metrics versus their peers, including ESG risk, e-reputation, competitive positioning, sentiment, positive and negative themes and other critical KPIs.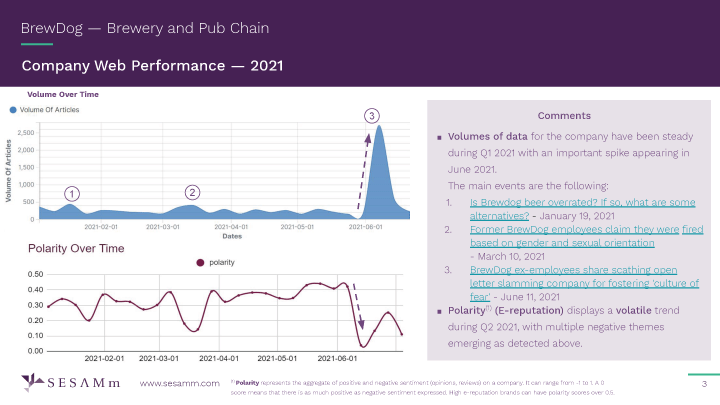 Fig 1. An Example of one of SESAMm's deal slides, in this case for the brewery company  Brewdog.
By regularly presenting SESAMm's analytics reports to investment committees, Sylvain and Matt hoped to gradually convince deal teams that alternative data could have a positive impact on the investment process.
"It was about sharing the data in the form of slides directly with deal teams in a way that was automated on our side but easily consumable as part of the pre-deal decision process", said Forté.
"We saw the need to convince people and show, time after time, that it really works, that this data is really valuable and can give an edge", added Forté.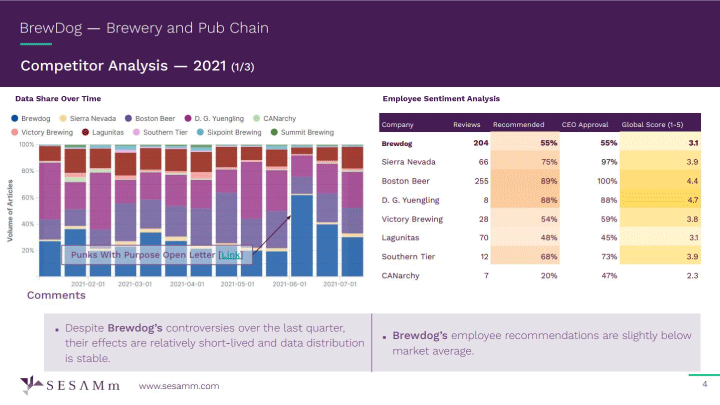 Fig 2. A deal slide showing competitor analysis.
"In some instances it helped us to not make investments or avoid allocating resources to things that were marginal or moving in the wrong direction, and that was really valuable", said Anderson.
To further prove the value of the data, Matt asked Sylvain to create analytics reports on a selection of Carlyle's historical target companies. The idea was to see if SESAMm's scores and analytics were predictive of the deal outcome, whether positive or negative.
"If we put a number on how positive SESAMm feels about some of these deals between one and ten, with one being, 'avoid at all costs' , and ten, 'go for it', what would it have told us?", said Anderson.
After running the back test, the results showed a clear correlation between SESAMm's analysis, and the deals that performed well and those that fell through.
"Looking at the results, I think that people would have really paused an investment committee around some of the conclusions", commented Anderson.
"Having a view of the themes being surfaced, the plateaus in certain trends, and the sentiment charts heading in a negative direction was eye-opening for our leaders and deal teams – because they had to actually live through those deals. So seeing that kind of data, and what it can help you avoid was really insightful." Says Anderson.
Ultimately, the integration of SESAMm's analytics reports into Carlyle's investment process was so successful that they were rolled out across all global investment teams. The two companies have developed a strong partnership based on the proven value of alternative data in the private equity investment process.
To find out how SESAMm can support your investment decision-making, to request a demo or for any other questions regarding our data do not hesitate to contact [email protected].