The HUBX Data Science team, led by Josh Greenwood, have just released the Beta version of Lumen, our new proprietary data science engine for the private capital markets.
We pried Josh and Naqash away from their algorithms to tell us more about Lumen – in laymen's terms.
WHAT IS LUMEN?
NAQASH – Lumen is a database for the private capital markets, covering every single entity. The vision behind Lumen is in fact to map out the entire private market network – starting with the UK. Its aims to uncover connections between every single company and every single investor. We call Lumen our data science engine.
JOSH – Advisors can leverage all these connections in their work. Until now, this data sat across spreadsheets, CRM systems and notebooks. Now, thanks to Lumen, Advisors can collect, aggregate and analyse information crucial to running a private deal. Lumen will make Advisors' jobs more effective. And scalable.
HOW DID THE IDEA OCCUR TO YOU?
JOSH – One of the HUBX partners asked if we could build a newsfeed from Companies House to monitor investor activity. Running with this idea, our Data Science team started to automatically track every piece of information about individual companies. This way, Advisors are alerted to any relevant news (fundraise, change of management or cap table..).
NAQASH – Effectively, we are building a timeline for every registered company in the UK. We're mapping every shareholder and every director, along with all their public connections.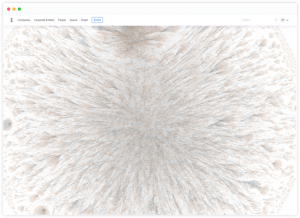 WHO PICKED THE NAME AND WHY?
JOSH – I did! Lumen illuminates the private capital markets through sourcing and curating data. Until now, that was hard to find.
NAQASH – Interesting fact: Lumen is the amount of energy emitted by a light source. We thought it was relevant because Lumen brings buried data to light, making it easy for everyone else to access.
WHAT IS THE PROBLEM YOU ARE TRYING TO SOLVE WITH LUMEN, AND WHY?
NAQASH – Data relating to companies and people in the private markets is already available. But it is highly fragmented. Currently, Advisors store this valuable data in different spreadsheets across a range of tools. Cross-referencing it is a slow, manual and ineffective process. Lumen, on the other hand, aggregates all that data in one place. Beyond simply collecting data, we go even further by analysing it to extract insights.
JOSH – Building a format to store this data was a challenge. Aggregating a large amount of data from different sources was doable. To be able to leverage it, the data must be available in a standardised format and clearly presented.
IN TERMS OF DATA SCIENCE, WHAT IS NEW ABOUT LUMEN?
JOSH – We are particularly proud of the Recommendations feature. Recommendations use interests and areas of focus shared by Investors on their social media profiles, and other parts of the internet. It also tracks companies' websites which provide extensive information about their businesses. Harvesting all that information, Lumen Recommendations converts it into suggestions to analyse and compare companies' investors and profiles. In our opinion, this machine learning component will help drive better suggestions on HUBX.
NAQASH – The analysis we provide is also what pushes Lumen one step further. Lumen delivers relevant insights so Advisors don't have to spend their valuable time analysing endless data sets in different formats.
"Lumen covers in seconds what an individual Advisor would take years to go through."

JOSH GREENWOOD
HOW DOES LUMEN RELATE TO HUBX?
JOSH – HUBX is a tool for professional Advisors to run capital markets deals more easily. Advisors must be up-to-date with their deals, investors and relevant news flow. HUBX can now offer this service thanks to Lumen. Lumen keeps Advisors abreast of new information and who invests or works together, giving them a new way of tracking the market.
NAQASH – By combining Lumen with HUBX, Advisors will be able to serve their investors more effectively. We see this becoming a daily part of their activity. Amongst other things, Lumen also helps instantly upload relevant profiles and data within HUBX, helping make it much easier to get a deal set up.
HOW DO YOU SEE LUMEN IMPACTING THE PRIVATE MARKET?
NAQASH – As we integrate and refine Lumen further, Advisors adopting this technology will come to gain an edge spotting patterns faster and staying on top of relevant trends. Being able to identify relevant opportunities and visualise networks in a matter of seconds will transform existing manual processes. Those are so wasteful when it comes to data and insights. Not to mention incredibly time consuming.
JOSH – The private market is late to technology. It is slowly waking up to the fact that current processes are wasting time and data. Lumen is an example of technology replacing archaic methods with something that is streamlined and efficient, yielding very powerful insights.
"Automating searches means we achieve a benefit of scale that is impossible for humans to compete with."

NAQASH TANZEEL
CAN YOU GIVE US AN EXAMPLE OF SUCH INSIGHTS?
NAQASH – Right now, if you wanted to find someone who has invested in a specific company, it can be tricky. You have to go through every single confirmation statement on Companies House and read blurry PDFs, which cannot be auto-searched. Now, HUBX can extract all that information and convert it into a text format. Through Lumen, Advisors can lookup a company profile and type someone's name to see if and how they are involved, as shareholders, directors or other. Conversely, by searching for an individual, Lumen can reveal all of the companies in which they are invested. We can map these connections across several degrees of separation.
JOSH – By automating this process, Lumen covers in seconds what an individual Advisor would take years to go through. Being able to scale such searches makes it impossible for humans to compete.
WHAT WAS THE MAIN HURDLE YOU HAD TO OVERCOME WHEN YOU WERE BUILDING LUMEN?
JOSH – The main component of Lumen is a huge amount of data on companies. But it is not in the best format! We had to work out a way of using scanned images and putting them into our systems as text, which is much harder than it sounds. There were a lot of hurdles to be honest.
NAQASH – We've got dozens of different sources: news articles, companies' information, and twitter statuses. All in different formats. We wanted to ensure Lumen was user friendly, with all the information in one digital space.
WHAT IS NEXT FOR LUMEN?
NAQASH – Currently, Lumen insights are only available to HUBX clients in its private beta version. One of the upcoming features is the Lumen plug-in. It will allow other platforms to integrate with the data Lumen collects. We are also planning to open up access to Lumen directly. Crucially though, Lumen will shortly be available directly on the HUBX platform.
JOSH – Plugging Lumen into HUBX will dramatically increase the range of data insights. In fact, we are building a very rich data set that I don't think anyone else can access. The insights we extract from Lumen combined with HUBX are going to be unique for Advisors.
NAQASH – HUBX already uses Bolt, our proprietary matching algorithm to highlight investors most suitable for a deal. The algorithm is currently powered by extrapolating investors' preferences, which is already so much more powerful than a conventional CRM or spreadsheet. Soon we will be able to combine Lumen to Bolt to scale the matching process across the entire private company ecosystem in the UK.
Lumen will be launching soon. It is currently running as a private beta version only available to HUBX clients.
Would you like to see Lumen in action? Contact HUBX for a demo.