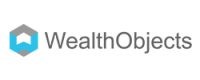 Overview
WealthObjects provides fully integrated or Modular API based multi award winning software meeting a wide variety of digital business model use cases across D2C, Robo Advisory, Hybrid Advisory, Retirement Planning, Financial Calculators, Portfolio Management and Order Management. WealthObjects was launched in 2015, owned by its employees, and has successfully delivered client propositions across EMEA and APAC over the years.
Click here to view WealthObjects' overview video.
Next steps
Small and Mid-size UK Investment and Wealth firms who are considering launching a brand new digital business model or who are looking to upgrade their existing business model with hybrid digital tools to prepare themselves for the new normal are eligible for a complimentary 2 hour one-to-one online conversation with the CEO and Founder of WealthObjects, Uday Bhaskar Nimmakayala. The conversation's goal is to understand existing capabilities, and to guide the firm on a practical path to achieving their digital goals at a faster time to the market and cost effectively while retaining their brand identity. You can avail this offer by writing to them directly at [email protected] quoting 'UK IA 2020 Discovery'.