IA Fintech Member Insights: Singlerulebook
Announces Rule Maps to Decipher Complex Financial Regulation
LONDON, 10 September 2019 – singlerulebook.com unveiled a new solution to the widely recognised challenge of understanding a large body of regulatory texts which is spread out over hundreds of different source pages in different locations.
Each one can contain hundreds of different rules, Q&A or guidance, and can be frequently subject to change. Up until now this was not systematically searchable via a single sophisticated engine.
singlerulebook.com's rule maps and proprietary search algorithms help compliance advisers and specialists to instantly search and navigate complex regulations. The solution builds on Natural Language Processing (NLP), cognitive science, machine learning and visualisation techniques and was specifically developed to process complex regulations for the benefit of the regulatory community.
singlerulebook.com is a regulatory knowledge platform co-founded by the former HFT Head of Compliance Wim Nelen and fintech veteran Stefan Hendrickx. Customers turn to singlerulebook.com for productivity increases in Legal and Compliance teams, and digital transformation of regulatory knowledge management.
Wim Nelen, CEO of singlerulebook.com said: "Technology is needed to navigate complex regulations such as MiFID II or CRR. As a former regulator and head of compliance it is very exciting to now lead the development of a platform that will enable the regulatory sector to more easily comply, document interpretations and stay up to date."
singlerulebook.com's CTO Stefan Hendrickx said: "Our mission is to support compliance and legal functions in their daily work and keep on top of valuable knowledge across regulations and jurisdictions. The technology combines intelligent search and up to date information within a vast body of regulatory texts. The software is available in the cloud and on-premises."
An example of singlerulebook.com's rule map for Article 5 of MiFIR, including links to all of the rules, guidance and Q&A that are based on that article.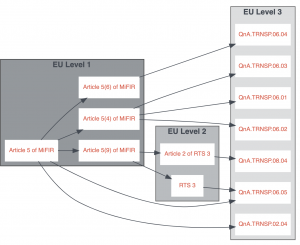 For further information, please contact:
Wim Nelen
CEO and co-founder